Parts and Expertise to Keep Your Operations Running Optimally and Safely
ERCO Worldwide uniquely understands the operating conditions, failure modes, and wear indicators for your R-Series chlorine dioxide generator. We designed, specified, and supplied most of the process equipment in your ClO2 generation system. Put simply, our parts and expertise will help maintain your operations better than anyone.
Certified Original Parts
ERCO is the only provider of original equipment manufacturer certified spare parts to meet your obligations under OSHA's process safety management regulations. 
Full-Service Addressment
Our experienced technical service representatives and engineers inspect equipment conditions, determine the needed repairs, and provide a schedule for repairs.
Avoid Premature Replacement
Our specialists understand the degrees between normal equipment wear and wear that presents concerns to help you avoid unnecessary equipment replacement.
As a routine consumable product within the process high quality filters are critical. We provide design-appropriate filters and replacement housing units as well.
We provide in-kind replacements as needed for heat exchangers within the process. Primarily components and occasionally entire vessels are rebuilt. ERCO stocks speciality-grade titanium tubes to reduce extensive lead times.
The reactive, abrasive, and corrosive nature of the process is such that it wears out spool pieces in joints and elbows, replacing these pieces with specialty grade titanium by the OEM in a timely manner is crucial for safe operations.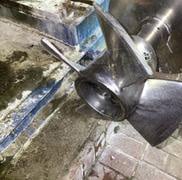 The rotating drum assembly is a unique ERCO design and requires OEM replacements for reliable operations.
The Saltcake Filter System is a special component in ERCO's R8/10 design. The rotating drum assembly is unique to our process and as such requires OEM replacements. This includes Filter cloths, ware and timing plates, or more extensive rebuilds.
The absorption and stripping columns are two FRP components of the process, spare parts here include packing materials, support rings and distribution trays.
When you do need replacements, ERCO ensures parts that are suitable for the process conditions; that meet the original specification design intent of the process; and that meet all applicable codes and standards.